Our Purpose
Women's Ministry at Redeemer exists to encourage and equip the women of our body in our relationships with Christ and one another as we serve the church.
Our primary focus is study of the Scriptures as a means of building connection with each other. We'd love for you to join us to grow, learn, serve, and fellowship with women of diverse backgrounds, cultures, and generations!
Women's Bible Studies
Women's groups at Redeemer will be studying the book of Exodus this fall! Groups will meet throughout the week and at different times of the day with the hope of accommodating as many schedules as possible.
Please see the detailed information below and contact Emily Shuler with any questions you may have. We look forward to having you join us!
Tuesdays
Busching/Garner/Hill/Shuler Group
Wednesdays
Berkompas/Newell Group
Combs/Henderson/Tomás Group
Thursdays
Owens/Watts Group
Mom's Bible Study
Mom's Bible Study is designed for all moms especially those with young children.
We meet in the Youth Room at the church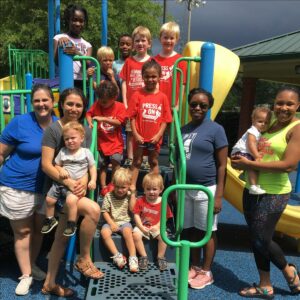 on Wednesday mornings at 9:00 with nursery provided for children 0-3 and a Bible Club for older children attending.
Women will be offered a chance to learn in a large group setting as well as gather in small groups to pray together.
Please register below, including registering your children for Nursery (0-3) and Bible Club (4+).
Bible Study and Prayer Groups from 9:00 - 11:00

Teacher: Ellen McCay
Administrators: Kateri Gill, Gloria Ozier, gozier2@hotmail.com
Begins Sept 8.