Our Purpose
Our purpose in women's ministry at Redeemer is to lead our women to know God better through the study of Scripture, fellowship with each other, and serving the various ministries of our church.
We work to make places where women in every season can learn from each other in the Word.
We work to facilitate relationships that unite women of all backgrounds and ethnicities together as sisters in Christ.
We work to see all women in the body recognize their distinctive gifts and find a place to serve in the church.
Whether you are new to Redeemer or a longtime member, if you want help to grow, connect with, or serve the body these ways, please contact any of the women on the committee. We look forward to getting to know you better!
Summer Book Study
This summer we are excited to be gathering as one large group for a book study of Jackie Hill Perry's, Holier Than Thou! This change in dynamic will enable women who don't cross paths as much to learn together through this six week study of God's holiness, and we hope you will feel welcomed to jump in with us as well as bring along a friend who may be looking for a place to engage.
Click here for more detailed information & complete the registration form! 
Bible Studies
During the academic year, we have five or six groups that gather to promote study of Scripture in small groups together. Groups meet throughout the week and at different times of the day with the hope of accommodating as many schedules as possible.
This past year our women immersed themselves in Exodus and for '22-23 we will tackle Matthew together. We look forward to having you jump in with us in September!
Here are the groups from '21-22. We will post the new groups as we get closer to the fall.
Tuesdays
Busching/Garner/Hill/Shuler Group
Wednesdays
Berkompas/Newell Group
Combs/Henderson/Tomás Group
Thursdays
Owens/Watts Group
Mom's Bible Study
Mom's Bible Study is designed for all moms especially those with young children.
We meet in the Fellowship Hall at the church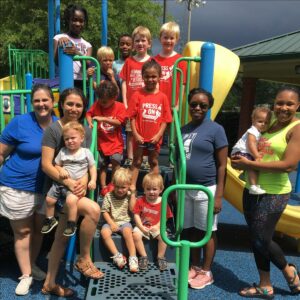 on Wednesday mornings at 9:00 with nursery provided for children 0-3 and a Bible Club for older children attending.
Women will be offered a chance to learn in a large group setting as well as gather in small groups to pray together.
Please register below, including registering your children for Nursery (0-3) and Bible Club (4+).
Bible Study and Prayer Groups from 9:00 - 11:00

Teacher: Ellen McCay
Administrators: Kateri Gill, Gloria Ozier, gozier2@hotmail.com
Begins Sept 7.
Women's Committee
This committee of our church exists to care for and serve our women as we're best able. We gather regularly to pray together; plan curriculum for future study; consider events that would encourage fellowship, fun & growth; and dream about various ways for the women of Redeemer to be encouraged and drawn further into the life of the body. If you would like to help serve in any way, please be in touch with us!
Emily Shuler
Haley Arndt
Kateri Gill
Becca Hill
Claire Howell
Mandy Penny
Mary Sanders
Beth Watts