Our Mission
To shepherd Redeemer's children on behalf of our children's Redeemer through safety, evangelism, and discipleship.
Our Vision
To see the grace of Jesus Christ and the work of the Holy Spirit transform children's hearts in our church and community.
On behalf of our entire church family, welcome to Redeemer Kids!
If you are looking for a fun, safe environment where children can learn to glorify God, enjoy Him, and grow in loving community – you've come to the right place.
It is our goal to proclaim the Gospel of Jesus Christ and live out its implications with families who have children k4 through 5th grade.
As a father, and as Redeemer's Director of Children's Ministry, this means I am committing myself to learn with you and walk alongside you as we all do the work of pointing children to Jesus.
Please visit the following pages to learn more about the various ministries of Redeemer Kids, and how you and your family can be a part of God's work in our church and community. Do not hesitate to contact me if you have any questions.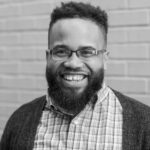 In Christ Alone,
Jajuan McNeil
Director of Children's Ministries