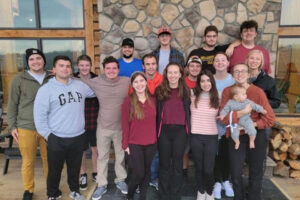 This week we are praying for Larissa Kanz, who is about three months into her RUF internship at Millersville University in Lancaster, PA. In her November update, Larissa shared about some fellowship events with students she's been able to meet with regularly, and their time at Fall Conference that they were able to bring 13 of their students to.
Larissa has been able to establish regular one-on-one meetings with several female students. With some of these students, they are meeting weekly to read Scripture together. Pray for the girls Larissa meets with, that God would continue to show them the beauty, sufficiency, and truth of Scripture for life. Pray also for Larissa that the Holy Spirit would guide her as she seeks to walk with these girls.
Pray also that girls who are new to RUF would connect with one another and feel a place of belonging and connection at RUF.
Praise the Lord for the encouragement that He has given Larissa in her life and ministry in Lancaster. Pray that He would continue to be at work in and through her.
For more information about Larissa Kanz and her work with RUF at Millersville University, you can go to: Praying for Missionaries.