A Solitary Blue by Cynthia Voigt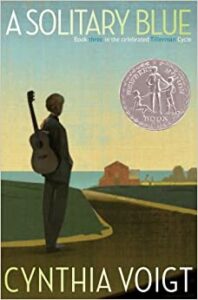 "I'm sorry."
"It doesn't make any difference."
These were the two lines that Jeff Green learned to use at age 7 when his mom left. He felt invisible. He didn't want his dad to leave too.
When his mom, Melody, left, she left a note. There are some hot dogs in the refrigerator, she wrote. I am going away, but I'm not going away from you. I will hold you in my heart, and you will hold me in your heart, and we can't ever be very far from each other then, can we?
She didn't write again for 4 years.
Jeff's father was a professor who liked things ordered and predictable. He didn't like change. He avoided emotion. Jeff learned those two lines from his father. They used them often. They used them as protection.
When his mom wrote again, 4 years later, she wanted Jeff to come visit for the summer. He was thrilled. He loved his mom. He missed his mom.
She was hours late to pick Jeff up at the airport, but was exuberant in seeing him again, gushing even. She was sunlight and warmth. And they talked, really talked.
But she wasn't around much that summer. She had parties, or obligations, but she knew Jeff would understand.
In A Solitary Blue Cynthia Voigt uses Jeff's story growing up to explore love and hurt, home and safety, belonging and fragility, charm and substance. Voigt pits Jeff's mom's charm and beauty and warmth against Jeff's dad's quiet stability and faithful presence. Jeff feels loved by his mom, and he's overwhelmed by her beauty. But her unreliability and sheer absence is the source of great pain. Jeff's dad, dealing with his own heartache from Melody's betrayal, didn't have the same magnetism, but he was always there.
One summer at his mom's in South Carolina, Jeff used the isolation of his mom's absence to explore a nearby island. Each day he would go a little further, testing the limits of his courage. In his adventures he discovers himself.
That discovery translates to school, friendships, and his relationships with his mom and his dad. Through it all, Jeff learns to sift through what is shiny but without substance and identify it as fool's gold. The real thing, Jeff learns, may not always glitter, but endures over time.
In the telling of it, Cythia Voigt reveals the steadfast and faithful nature of love. True love will never leave us or forsake us. He is always there.