Just Mercy by Bryan Stephenson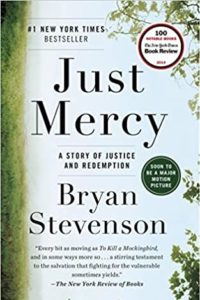 Just Mercy is heavy. Really heavy.
It's a compelling read—a real page turner—but it's filled with injustice and brokenness. And that fills my soul with grief.
Bryan Stephenson tells the story of how he founded the Equal Justice Initiative in Montgomery, Alabama in 1989. It's a story of fighting injustice.
As a Harvard Law student in 1983, Bryan took an internship with Southern Prisoners Defense Committee (SPDC), and one of his first tasks was to tell a death row inmate that he would not be executed in the next year. He was petrified. But as Bryan met Henry, Henry set Bryan at ease. They talked for three hours, and Henry left singing. Singing!
Bryan had found his purpose. He left the internship committed to helping the death row inmates he met that month.
Several years later, while working for SPDC, Bryan met Walter McMillian.
Walter was among five desperate men condemned to death row that Bryan met in one day in an Alabama prison. But Walter stood out. He insisted he was innocent.
Walter McMillian was an industrious, charming man that was embraced by the whole community. An entrepreneur, he started a pulpwood business in the 70s and was financially independent though not wealthy.
Ralph Myers, to alleviate the sentence against him in another crime, concocted a tall tale accusing Walter of killing a white woman, Ronda Morrison, who was the daughter of a well-respected family. Walter was incarcerated.
But Walter had an alibi. At the time of Ronda Morrison's murder, Walter was selling food to raise money for his sister's church with 12 other church members in the front yard of his house, which was on a main thoroughfare more than 10 miles from the scene of the crime.
Walter had been on death row for several years when Bryan met him. As Bryan investigates Walter's case, he finds one injustice after another. The injustices are compounded by poor representation because of lack of funding. He begins to think that Walter might indeed be innocent.
Just Mercy is a true story built around Bryan Stephenson's defense of Walter McMillian. But it's more than that. Through the details of Walter McMillian's case, and the stories of other death row inmates like him, Bryan Stephenson discloses miscarriages of justice in an imperfect and flawed system.
Stephenson relates the stories in an even-keeled manner. But as they accumulate, the injustice becomes almost too much to bear.
Any injustice is heart-breaking. But a miscarriage of justice in a capital offense means that an innocent man is put to death.
It's really heavy.
This #1 New York Times Bestseller has been made into a major motion picture starring Michael B. Jordan and Jamie Foxx. I saw it with friends in the theater in January. I watched it again with my girls on Father's Day.