What's Best Next by Matt Perman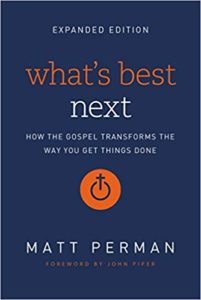 At the beginning of each year, I like to read a book on productivity to shape the year ahead. This year, I reread one of my favorites, What's Best Next, by Matt Perman.
Perman takes a 'Christian' approach to productivity, and he builds his system from David Allen's Getting Things Done (stronger in projects and actions) and Stephen Covey's First Things First (stronger in missions, values, and roles).
What's 'Christian' about his approach? The book centers around "Gospel-Driven Productivity" (GDP) which Perman says is: "We are to use all that we have, in all areas of life, for the good of others, to the glory of God." (p.28)
In other words, your purpose matters when it comes to productivity. His definition of GDP echoes the Westminster Shorter Catechism, Question 1: What is the chief end of man? Man's chief end is to glorify God and enjoy him forever. And Perman's guiding principle for productivity is love—and that love leads to generosity.
So this is more than just a way to zero your inbox or work a to-do list.
The acronym DARE is the practical heart of the book, and the process for Gospel-Driven Productivity.
Define. We should schedule our priorities, not prioritize our schedule. But first you need to define your purpose clearly through mission, vision, roles, and goals. "Define what's most important in your life based on what God says, not first on what you (or others) think. This is the only way to build a life that lasts and thus is truly productive." (p.30)
Architect. Your clearly defined priorities now need to be woven into the fabric of everyday life. Perman wants us to lean into rhythms and routines rather than lists (but I love a good list!). "Structure your life by living your life mainly from a flexible routine, not a set of lists." (p.30)
Reduce. Once you know what your priorities are, you need to declutter the rest of life so there's room for those priorities. He suggests the acronym DEAD to reduce non-priorities so we can do what really matters: (1) Delegate, (2) Eliminate, (3) Automate, and (4) Defer.
Execute. With your priorities clearly Defined, and your life's pattern Architected with the non-priorities Reduced, now it is simply a matter of enjoying the tasks at hand.
Here are some other key take-aways for me:
Interruptions are often part of our work.
Do first things first and one thing at a time.
Personal Leadership is knowing what's important.
Personal Management is putting what's important first and actually doing it.
So I know this kind of book doesn't float everyone's boat, but I've found it important to have a clearly defined mission and vision, and What's Best Next helps me to remember.