The Nightingale by Kristin Hannah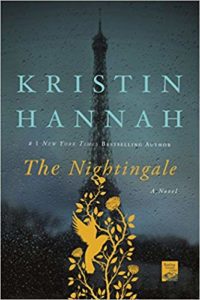 World War II history tends to be about strategies and battles, fronts and guns, heroes and power. It's a tale told about men. It's a tale told by men.
But that's only half the story.
Kristin Hannah paints a vivid picture of Nazi-occupied France during World War II. It's historical fiction, but she creates a world you can live in, if only for a while. In it, she weaves a tale of two sisters, Isabelle and Vianne.
"Men tell stories. Women get on with it. For us it was a shadow war. There were no parades for us when it was over, no medals or mentions in history books. We did what we had to during the war, and when it was over, we picked up the pieces and started our lives over."
It was a battle for survival.
As the men of France went off to war, the women stayed behind. And then the Germans came. They took whatever they wanted. They 'billeted' in French homes. They ate the best food. Over time, food became scarce, though not for the Germans. Ration cards. Oppression. Injustice. Fear. And then 'the list.'
The gradual slide at home was a fight for dignity and humanity. In Nazi-occupied France, morality became blurred. Survival itself was an act of courage that left wounds full of regret. And yet decency was found in unexpected places.
Against this backdrop, Kristin Hannah explores love and friendship.
"If I have learned anything in this long life of mine, it is this: in love we find out who we want to be; in war we find out who we are."
The sisters' childhood was torn apart by World War I. The chasm between Isabelle and Vianne was only eclipsed by their estrangement from their father. The war changed their father. He left a tender poet and returned an empty drunk. It was a haunting foreshadowing.
Isabelle was sent away to various boarding schools and finishing schools, but she kept running away or getting expelled. She broke rules and never fit in. She learned to run and hide. By the time World War II arrived, Isabelle was a rebel with courage looking for a place to belong.
She found a home in the resistance.
World War II cast a massive shadow on the landscape of history. Kristin Hannah gives us a glimpse into the darkness.