Same Lake, Different Boat, by Stephanie Hubach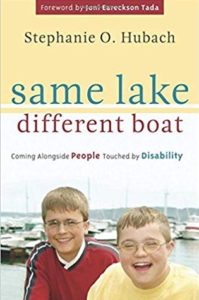 I once heard an excellent sermon from Luke 14. The Gospel was applied it in a real way to our lives. The preacher firmly and compassionately spoke about our spiritual blindness, our spiritual disability. But there was a problem:
"He said also to the man who had invited him, 'When you give a dinner or a banquet, do not invite your friends or your brothers or your relatives or rich neighbors, lest they also invite you in return and you be repaid. But when you give a feast, invite the poor, the crippled, the lame, the blind, and you will be blessed, because they cannot repay you. For you will be repaid at the resurrection of the just.'"(Luke 14:12–14 ESV)
In this otherwise great sermon, there was no mention of physical disability. By over-spiritualizing this text, we miss Jesus' very command: invite those who are marginalized and suffering into your fellowship.
A remarkable amount of Jesus' time was spent caring for people whose bodies suffered from the effects of sin in this world. He made the lame walk and the blind see. Jesus was close to those who suffered with disability and chronic illness.
In her book, Same Lake, Different Boat, Stephanie Hubach's theological depth and compassionate heart mix powerfully with her own story as a parent of a child with a disability. She sets out not to provide another experiential work (telling her story for the sake of understanding/empathy). Nor does she attempt to provide a practical work (a how-to guide for disability ministry in the church). Instead, she digs deep into God's Word, our culture, and our stories to present a vision for a better way: 1) To understand disability, 2) To understand the challenges faced by those touched by disability, and 3) To understand the role of the church in the lives of people touched by disability.
In my opinion, Stephanie provides one of the best examples of fleshing out Jesus' commands through practical theology. Her work stands out above some of the brightest theologians, philosophers, and psychologists.
She masterfully shows that disability is not:
• An abnormal part of life in a normal world (Historical view) or
• A normal part of life in a normal world (Postmodern view)
Instead, according to God's Word, disability is a normal part of life in an abnormal world. From that starting point, we can go about to work of making the church a warm, welcome, accommodating, weeping, and rejoicing place for those who suffer with disability. Hubach's work is a resource for the Church to become a place where every member of the Body can display the works of God (John 9).