The Jesus Storybook Bible, by Sally Lloyd-Jones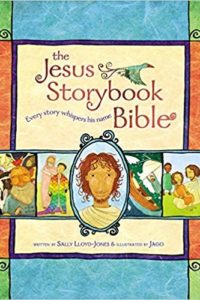 When I first began teaching children in a summer camp setting, I began accumulating resources (curricula, books, bibles, etc). So when our first child was born, I had an arsenal of children's bibles on hand to start reading.
But there was a problem.
Whether the message was moralistic, the hero wasn't Jesus, or the storytelling was clunky – I kept coming across resources for the spiritual formation of children that left something to be desired (or worse).
However, in 2007 a book came out that my ADULT friends were raving about. They said it opened up the bible for them, showing them the continuity of God's Word as one story with Jesus as the focal point. They told me that this kids' bible was the better than any devotional books!
Lloyd-Jones' subtitle cuts to the quick: "Every story whispers His name." What the Jesus Storybook Bible does so well is this: it focuses on what God has done in history to rescue His people. Many children's bibles and well-meaning curricula focus on what the CHILD must do.
But Lloyd-Jones faithfully and creatively tells 44 stories from the bible by focusing on what GOD had done – with constant reference back to the cross and resurrection of Jesus.
While some children's bibles work better for the short attention spans of younger children (Child's First Bible by Kenneth Taylor: great for ages 2-4 with some selective parental content editing while reading!) or stick closer to bible content for older children (Child's Story Bible by Catherine Vos), the Jesus Storybook Bible is the perfect choice if you are looking for something for your whole family.
Beautifully illustrated (with accurate and/or helpful depictions of skin color of the various characters) and beautifully worded, my soul has been encouraged and my love for God deepened by this book.
Parents: don't be afraid to start reading to your children – no matter what their age. Read a chapter, or even a page, and pray together. Nothing complicated, nothing formal. This time spent together talking about our Savior will shape hearts and bond you together as a family.
"And the King says, "Look! God and his children are together again.
No more running away. Or hiding. No more crying or being lonely or afraid. No more being sick or dying.
Because all those things are gone. Yes, they're gone forever.
Everything sad has come untrue.
And see – I have wiped away every tear from every eye!"
And then a deep, beautiful voice that sounded like thunder in the sky says, "Look, I am making everything new!"
Jesus Storybook Bible, "A Dream of Heaven: Revelation"