The Hate U Give, by Angie Thomas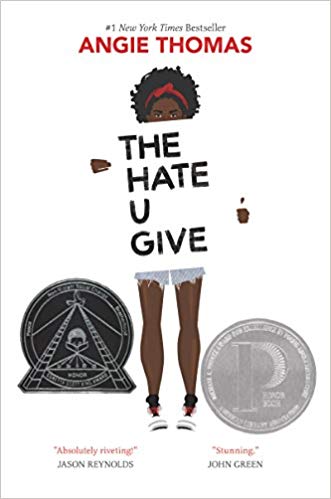 It's hard to put yourself in someone else's shoes and see the world from their perspective. You don't know what you don't know. We often cram the details of someone else's world into our categories. We simplify their complexity.
The biblical command to love others asks us to enter into the world of another with curiosity and compassion. The Hate U Give has shown me how little I know.
Starr Carter is a 16-year-old who lives in the hood (Garden Heights) but goes to a fancy prep school (Williamson Prep). She plays basketball and is dating a white guy named Chris. She straddles two worlds.
Local author and Belhaven graduate, Angie Thomas, writes this page turner from the first-person perspective—from Starr Carter's perspective. You're in Starr's head. You see her flip the switch from Garden Heights Starr to Williamson Prep Starr. She adapts as she moves between worlds. Williamson Starr uses manners and never uses slang. Garden Heights Starr knows the streets and was instructed at a young age how to respond to police. Both Starrs respect her parents, care about people, and love Jordans.
I don't often adapt my person to my surroundings. I understand that to be one of the 'privileges' of being in the majority culture. But walking into The Hate U Give in Starr Carter's shoes—Jordans no doubt—has helped me, if even a little, to see the world from a different vantage point. I've begun to listen.
Angie Thomas builds vivid characters (all seen through Starr's perspective) that introduce different walks of life and different ways of viewing the world. Starr's mother, Lisa, is a nurse who sends her children to a private school and wants to move out of Garden Heights. Her tender, committed marriage to Big Mav, Starr's father, keeps them in the neighborhood. Big Mav is an ex-con who used to sell drugs but now owns a shop and wants to see lasting change in the community. Starr's Uncle Carlos, a policeman, stepped into the father role for Starr when Big Mav went to prison.
Tragedy interrupts their world. Different characters, conversations, and circumstances begin to reveal the complexity of brokenness in this journey. It's a harsh reality. There's grief and mourning. There's harsh language. The characters, each in their own way, respond with confusion and then conviction. Brokenness is met with affection. Questions are met with gentle but unwavering truth. Grief finds friendship in those who will really listen. And Starr finds her voice.
These characters plunged me into a complex world—a world that I want to know more about. My curiosity has been piqued. I've been prompted to listen. At least now I know that I don't know what I don't know.