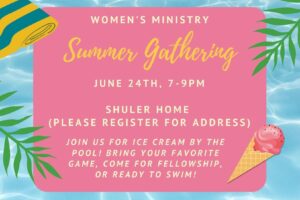 What: Women of Redeemer, Women's Ministry is excited to announce our Summer Gathering! With all that fun in the sun, let's cool down poolside with ice cream and games. We will provide ice cream, toppings, and drinks. If you'd like, please bring a game to share. The pool will be open for swimming but it is optional. Come and hang out with your best girls this summer! This will be our social event alongside our book study for the summer.
When: Saturday, June 24, 2023
Time: 7:00-9:00pm.
Where: Emily Shuler's Home (Please register for address).
Additional information: No Nursery
Please register below:
Once we receive your registration, we will send the address for the event via email prior to the event date. Thank you!