Larissa Kanz, RUF at Millersville University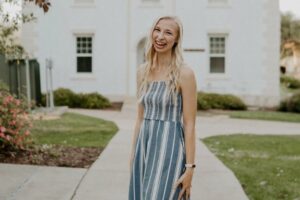 This week, we will be praying for Larissa Kanz who is serving as an RUF intern at Millersville University in Millersville, PA. During her time as a student at Belhaven, Larissa was involved at Redeemer.
A couple of weeks ago, Larissa was in Denver, CO for RUF Staff Training. During this time, she learned more about RUF's Philosophy of Ministry, received instruction on 1-1 ministry and leading small groups, met with her prayer group, and spent time with other interns.
Larissa will move to Millersville on August 16. Pray for this move and transition as she settles into a new home and job. Praise God for his provision of both the necessary funds and roommates so that Larissa can move before the school year begins! Pray also for the remaining 15% of funds she needs to be considered fully funded.
Pray for the Holy Spirit to be at work in the hearts of Millersville students that Larissa will get to know this fall.
For more information about Larissa Kanz and her work with RUF, you can go to: Praying for Missionaries.