Equipping Leaders International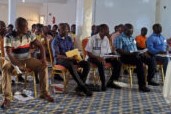 ELI intentionally focuses on the world's least developed countries where opportunities for theological education for village pastors is nearly non-existent. This commitment to serving global Christian leaders connects ELI to brothers and sisters who have very tough times ahead as the global economy is threatened. As we feel the sting of rising grocery and gas prices, these believers are thinking along the lines of "how will I feed my children today?" Pray for them and for ELI's ability to respond so that their love for one another testifies to the glories of the gospel.
In his recent newsletter, Chuck McArthur shared that 600 Liberian pastors are in the home stretch of completing their 14 Pastor Certification courses. These courses are enriching the pastors' lives, teaching them how to interpret God's Word, and encouraging them in the midst of suffering. Pray for these pastors and ELI's work with them.
Pray also that this week at General Assembly, God would raise up leaders to take the training and experience that God has entrusted to them to invest in developing biblical leaders for the global Church.
For more information about Equipping Leaders International, you can go to: Praying for Missionaries.