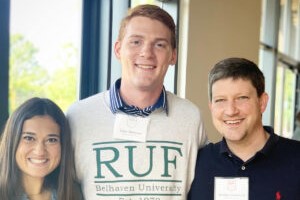 This week, as Belhaven students started classes, the RUF staff has been gearing up for another semester of ministry.  The first few weeks are especially busy as Bentley and the interns, Hannah and Tyler, will be reaching out and connecting with freshmen and transfer students as well as familiar faces.
Many Belhaven students find a "home" in RUF as a place of fellowship and Biblical teaching/encouragement.  Would you be praying that God would draw students in to RUF?  Pray also for Bentley, Hannah, Tyler and the RUF Ministry Team, for wisdom and energy.
RUF will host their first large group of the semester on Tuesday, August 31.  Pray for the Lord's continued work, in the midst of adjustments for COVID safety.
For more information about Belhaven RUF, go to: Praying for Missionaries.