Chris and Josephine Hatch, Update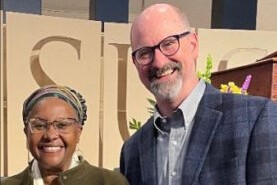 Chris and Josephine Hatch are currently in Kenya, spending time with Josephine's family and visiting the Serge mission teams there.  They've gone through lots of transition in May.  Chris completed his exam that moved him from a PhD student to a PhD candidate; he still has research to conduct and a dissertation to write, but this is a milestone in his PhD journey.
They've also had lots of meetings with Serge.  Most of these meetings have been over Zoom, and they are eager to get to meet face-to-face with friends and other missionaries.  In their May 10, newsletter Chris reflected on the importance of meeting with God's people: "in order to accomplish anything worthwhile together, we humans must meet, communicate and make plans for the future."
The Hatch's are hoping to spend mid-June through July in the U.K., but currently London is not allowing flights from Kenya due to their COVID-19 levels.  Please pray that God would open up travel plans to allow Chris and Josephine to London.  Pray for Josephine's family as they continue grieving the loss of her father, and for the Hatch's preparation for the Gospel-centered cross-cultural training sessions they will lead this summer.  You can learn more about the Chris and Josephine Hatch and their work with Serge by going to:  Praying for Missionaries.