Evaluation of Phase 4 Set for Sept 14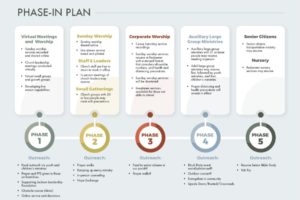 Phase 4 of our Phase-In plan includes Auxiliary Large Group Ministries. This includes events with 20 people or more such as Growth Group, Sunday School, Upside Down, and Crossroads.
As we consider how to navigate a way forward in wisdom, we are aware that the next event horizon in the COVID pandemic is the reopening of schools in our community (kindergarten through 12th grade). Most public and private schools in our area plan to reopen in the first half of August.
Following the reopening of schools, we plan to evaluate the data around school reopening as we consider moving into Phase 4 of our plan. That Session meeting will be on September 14.
In the meantime, the various committees will be planning content, curriculum, organization, volunteers, and teachers for when we do return. The earliest possible target date for a return to these Auxiliary Large Group Ministries would be Sunday, September 27.
Phase 2 of the plan already permits small gatherings where groups of 20 or less may meet with precautions. We are currently in Phase 3 of the plan.